Redmi Note 5 and Redmi Note 5 Pro Launched in India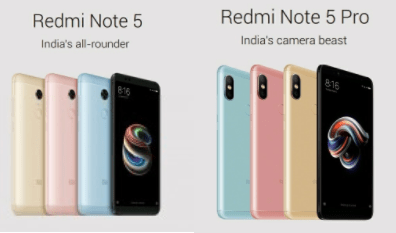 Xiaomi has finally announced their much anticipated smartphone of 2018 in India, the successor to the Redmi Note 4. This is also the Global launch of Redmi Note 5 (similar to Redmi 5 Plus launched in China last year) and Redmi Note 5 Pro, since it has not been unveiled in any other region, including China. However, unlike the previous editions, this time 2 variant of the Note series has been launched. Redmi Note 5 and Redmi Note 5 Pro, the former being a budget variant while the latter is the premium variant in terms of the specifications. Mi India is known for being very aggressive with the pricing and this time too it is no different. Out of the two variant,
Redmi Note 5 Pro looks very exciting as it comes with latest hardware specs and features with Xiaomi claiming it to be the "Camera Beast". Redmi Note 5 and Redmi Note 5 Pro will compete with the likes of Honor 7X and Honor 9 Lite.
The base variant of Redmi Note 5 and Redmi Note 5 Pro is priced at Rs 9,999/- and Rs 13,999/- respectively.
Xiaomi has also launched their smart Mi TV for the very first time in India. Mi TV 4 was announced in the CES 2017 last year and is now available in India. Mi India is also speculated to have a tie up with the Reliance Jio for the Mi Tv 4 launch. The price has been quoted as Rs 39,999/-.
Redmi Note 5 Specifications
Redmi Note 5 is the powered by the dated but very popular and impressive Snapdragon 625 chip along with 3/4 GB of Ram and 32/64 GB storage. The 4000 mah battery is expected to easily last through a full working day on a single charge. In terms of camera, Redmi Note 5 comes with 12 megapixel rear camera and 5 megapixel front camera. Camera has been the weakest link for the Note series, although Xiaomi has claimed drastic improvements in Camera with Redmi Note 5. It is expected to run on Android Nougat with MiUi 9 interface out of the box. Android Oreo update may be coming up soon.
Following the latest trend, the phone will feature 18:9 aspect ratio narrow bezel design with 5.99 inch HD+ display. It has ergonomic design with tapered metallic body lending it a premium look.
The fingerprint sensor is provided at the back and it is expected to get face recognition feature soon.
The price of the 4 GB Ram and 64 GB storage phone is Rs 11,999/-
Redmi Note 5 Pro Specifications
Redmi Note 5 Pro is the premium variant of the Note Series. It is powered by the latest Snapdragon 636 chipset with Kryo 260 processors (up to1.8ghz), it is the first phone launched in India with the newest Qualcomm midrange chip. Along with the new chip it also comes with 4/6 GB of Ram and 64 storage. The battery provided on the phone is of 4000 mah which again is pretty acceptable. Redmi Note 5 Pro comes with rear dual camera setup, 12 megapixel primary sensor while secondary sensor is a 5 megapixel shooter. Whereas, the front camera is mammoth 20 megapixel shooter with selfie light and beauty mode. Thereby, making it an incredibly exciting phone for photo lovers in the midrange segment. The camera specifications do make it look promising but one needs to check out the real life performance before commenting on the same.
Like Redmi Note 5, it may also run on Android Nougat with MiUi 9 on top. The phone resembles Redmi Note 5 in terms of look and design, offering similar 18:9 aspect ratio 5.99 HD+ Plus display with metal build. The only noticeable difference will be the placement of dual camera at the back which again looks similar to the iPhone X.
The price of the 6 GB Ram and 64 GB storage phone is Rs 16,999/-
Once again Xiaomi (Mi India) seems to have delivered an impressive device at a very competitive price. Hope that stocks are readily available unlike the situation faced during the launch of Redmi Note 4. Redmi Note 5 and Redmi Note 5 Pro offer great value for money and with Xiaomi improving its after Sales service the experience is bound to get all the more pleasing.