Payment of Gratuity (Amendment) Act, 2018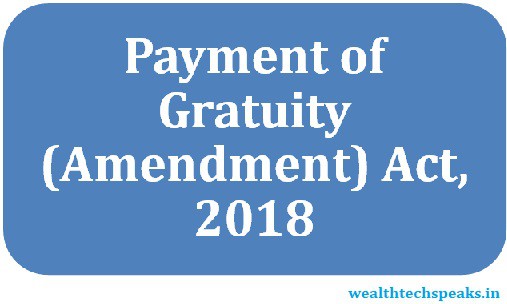 The provisions under the Payment of Gratuity Act had already been discussed previously along with the details pertaining to the benefits and calculation of Gratuity under the Act. The links to the post is provided below. In this post, I will briefly discuss about the amendments made to the Act recently. Payment of Gratuity (Amendment) Act, 2018 came into force on 29th March, 2018. The amendment is a welcome move for the individuals as it enhances the maximum benefit under the Act from 10 lakhs to 20 lakhs. The enhancement in Gratuity Benefit is bound to delight the private sector employees and bring them at par with the Government Employees. The Government Employees already enjoy the enhanced benefit post implementation of 7th Central Pay Commission.
Payment of Gratuity (Amendment) Act, 2018
Notification has been issued stating that 29th March, 2018 to be considered as the date for the amendment to the Payment of Gratuity (Amendment) Act, 2018 to come into force.
Amendment to the Section 4 (3) of the Gratuity Act
Sub Section (3) of the Section 4 under the Act has been amended to enhance to maximum benefit to the Employees under the Act to 20 lakhs from 10 lakhs.
Previously, the benefit under Act to Employees was raised from 3.5 lakhs to 10 lakhs as per the notification under Payment of Gratuity (Amendment) Act, 2010.
Amendment to the Section 2A (2) of the Gratuity Act
In addition, the Bill also envisages amendments to the sub section (2) of Section 2A, pertaining to calculation of continuous service for gratuity calculation, in case of Women Employees. The period of "twelve weeks" is to be substituted by "such period notified by the Central Government from time to time". The period has been notified as twenty six weeks.
Eligibility and Benefits
Please refer to the link shared in the post to know more about the Eligibility and Gratuity Benefit calculation method. The move to enhance the benefit is a welcome one as the Government is exploring ways to strengthen the Social Security System so that Individuals may be able to sustain themselves post retirement from their jobs. This also brings parity between the benefits extended to Government Employees and Private Sector Employees. However, few more employee centric proposals had been made in the past. But I believe, those need to be evaluated in detail before the same could be incorporated under the Act.