Nokia Series Smartphones Launched In India: All You Need To Know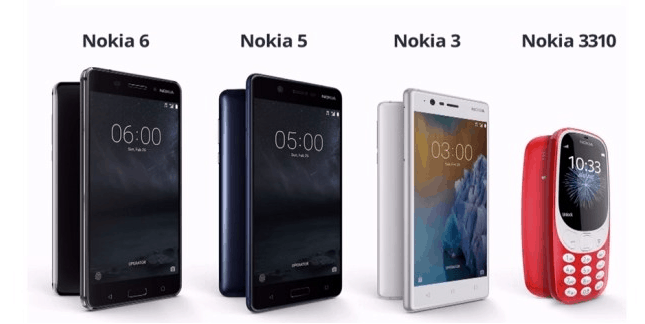 HMD Global has finally announced the launch of Nokia Series phones in India. The Nokia 3, 5 and 6 will be "Made in India" smartphones by the Finnish startup firm, which has the exclusive right to use the "Nokia" brand. The phones are being rolled out in phases, initially the Nokia 3 will released in the offline market followed by the Nokia 5 while Nokia 6 (premium variant) will be available exclusively online on the Amazon portal.
Nokia 3 is the budget end variant priced at Rs 9,499/- which is available in offline store from 16th June,'17 while Nokia 5 will be available for pre bookings from 7th July,'17 sporting a price tag of Rs 12,899/-. Note that both these devices will be available for sale only through retail stores. Whereas, the Nokia 6 will be available for pre booking from 14th July and it will be an Amazon exclusive for a price of Rs 14,999/-. Nokia has tied up with around 400 exclusive distributors for the offline sale.
Nokia has already launched the iconic Nokia 3310 last month. The phone is available in offline stores for a price of Rs 3310/-.
All the phones come with latest Android OS.
Nokia 3 is a budget end phone which comes with polycarbonate body, powered by the Mediatek chipset along with 5 inch 720p display. The quad core processor is clocked @ 1.3 Ghz with 2 GB of Ram. The specs for the entry level variant do not look too impressive at least on the paper but actual performance is something which everybody should wait for before drawing any conclusions.
Nokia 5 is the second device in the lineup, the specs are closer to Nokia 6 apart from the fact that it sports a smaller form factor. The phone has 5.2 inch screen with display resolution of 720p. The phone is powered by the entry level Snapdragon 430 chipset  along with 2 GB of Ram and 16GB of internal storage. It has a metal build along with fingerprint scanner. The phone comes with 3,000 mah battery.
Nokia 6 is the premium variant of the Nokia lineup. The phone has 5.5 inch HD display, powered by Qualcomm Snapdragon 430 chipset, 3 GB of Ram and 32 GB of internal storage along with battery capacity of 3,000 mah. The rear camera is a 16 megapixel shooter with f/2.0 aperture with PDAF and dual Led flash.
The phones have been reasonably priced considering the fact that it comes from the Nokia brand. However, it is the actual performance which will help in determining the worth of the devices.
Specifications of the Nokia Series.