Investment In Properties Made Simple By SmartOwner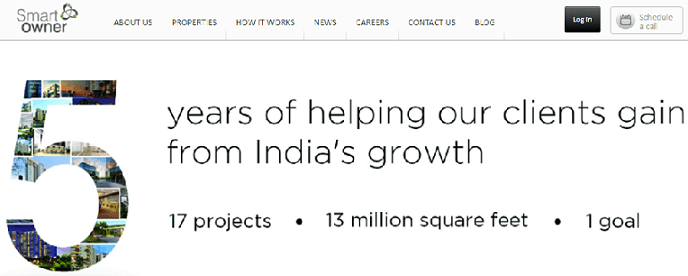 The incredible advances in technology over the last decade have profoundly impacted humanity in a myriad of ways. In fields as varied as Communication, Entertainment, Lifestyle, Health, Education, Travel and Science, software and hardware are revolutionizing how we live our lives. Financial services are no exception to this upheaval, and a number of pioneering companies are using technology to make finding a good investment as easy as opening your computer. SmartOwner, India's largest property marketplace, is a great example of this dynamic, using an online model to give the discerning investor access to exclusive real estate investments.
Financial Services
The digitization of services has not only provided convenience but also has reduced manual work to a great extent. Much of financial activity has been digitized, be it banking, investment or undertaking a financial transaction. FinTech – short for financial technology – is the key concept here, and any company using technology to  FinTech has helped the industry evolve as a whole with continuous development leading to major improvements in the area of Financial Services. It has helped the industry to expand and reach out to common people at large. Insurance, Banking, Trading and Risk Management has been the primary benefactors of the technology advancements. Real Estate is the latest sector to have joined the FinTech bandwagon.
FinTech- In Financial Services
Technology has changed the way Individuals invest. High speed network connectivity has made it possible to undertake investment, trade, and insurance transactions within minutes. The majority of transactions are now being performed online in a secure and hassle free manner. In 2018, Investment in securities, insurance premium payment, bank payments and money transfers can all be done online. Even investing is real estate online is now possible, with innovative platforms allowing individuals to invest in properties of their choice from the comforts of their home or office.
FinTech- Investment in Real Estate/High Value Asset Class
Real Estate is regarded as the most time consuming, knowledge driven and network oriented asset class. Individuals are often advised to be careful while dealing with such  an asset class due to lack of information and clarity on the specifics of any project. However, these kind of  hassles will soon be a thing of past. SmartOwner is a brand which is here to redefine the way one invests in high value assets. SmartOwner is currently the largest marketplace for real estate in India. It uses the cutting edge technology to provide the Investors with best deals which are approved only after rigorous checks, to the point where the company claims that it approves only 1% of the prospective deals that it examines.
Investment in Real Estate is one of the preferred choices of investment. However, in absence of complete knowledge about the real estate market, many are left with little option but to invest in nearby locations. SmartOwner is a platform which brings together savvy investors and prominent developers. They negotiate an institutional grade deal and pass this lucrative opportunity on to the clients.
All the information related to the projects is provided online and the entire process of investment is completed wirelessly. SmartOwner provides an interactive platform for prospective clients to scout for ideal investment opportunities. They also extend support until the client decides to exit a project, making earning a profit a painless process. Each property has to pass through rigorous due diligence to establish the authenticity of the project from a legal, financial as well as investment perspective.
Technology driven platforms enable investors to identify the ideal property for investment in the location of their choice. The entire transaction may be completed online with SmartOwner taking care of the due diligence and other legal documentation requirements. Investors will be briefed of the processes before initiating the investment by the Client Care Executive. SmartOwner also allows clients to track the return on their investment and sell their property at the time of their choosing..
Technology, intensive research, and due diligence ensure that the investor gets the best deal without having to waste time and energy scouting for the ideal property. Clients will soon be able to track their investments even on the smartphones with an application expected to launch very soon.
About SmartOwner
Founded in 2012, SmartOwner is a Bangalore based firm. It is run by experienced professional who bring in knowledge and expertise to provide the clients with the very best. The company strongly believes in technology intensive practices. It aims to deploy the most advanced technology which would be transparent and provide the Clients with State of Art investment experience.
This post is brought to you by SmartOwner. The information shared is based on details provided by SmartOwner. Readers are advised to do their research and seek expert advice before investing. The Blog does not validate nor authenticate the information shared in this post.