How to e-File Income Tax Return (ITR1-Sahaj)?

The last date to file income tax returns for the Financial Year 2016-17 (Assessment Year 2017-18) is 31st July, 2017 ITR-1 (Sahaj) is applicable for following class of Income for the Individuals:
Income from Salary/Pension
Income from House Property (Only 1 House)
Income from Other Sources
This form is not applicable for following class of Income for Individuals:
Income from more than 1 House Property
Winnings from Lotteries or Horse Races
Income from Capital Gains Not Exempt from Tax (Short or Long)
Income from Agriculture Income in excess of Rs 5,000/-
Income from Business or Profession
Losses brought forward from previous years or Other Head Sources.
I have discussed about the various Tax Forms and their applicability in my previous post. In this post I will discuss steps to file ITR-1 online. You may check the link below to understand Income Tax Forms applicable for various types of Incomes.
Income Tax Filing: Types of Income Tax Forms
Keep the following information ready:
PAN Card
Bank Account Numbers/IFSC Codes and Statements for the Financial Year.
Form 16
Aadhar Card Number (Aadhar ID needs to be mandatorily linked with PAN for e-Filing)
How to Link PAN with Aadhaar ID?
Log onto e-Filing portal with the login credentials and submit the Aadhaar ID in the link shared below.
Steps to e-File Income Tax Return (ITR1-Sahaj)
Log onto http://incometaxindiaefiling.gov.in/
Now, Registered Users need to Login using their respective PAN as user ID and providing the password.
For New Users: After Clicking Register Yourself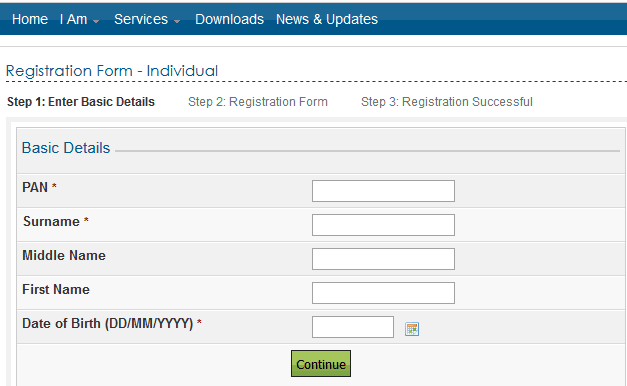 New Users are required to register on the portal to begin with the e-Filing process.
Select User type details and continue.
Enter the Basic details and click Continue to go to the Registration Form.
Fill up the Registration Form carefully and provide valid mobile number and email id to successfully complete the registration process.
Following which you will receive an activation link on your mail to activate your profile.
e-Filing of Return
Log onto the respective Profile and Select "Prepare and Submit Online ITR" Option make following Selections:
ITR Form Name: ITR1
Assessment Year: 2017-18
Prefill Address Details: From PAN Database/Previous Year Filing
Click on Form 26AS to find out the Tax Credit Statement (Tax Deducted at source TDS,TCS and Refund). Also verify the same with your Form 16 Statement. Now you may file the return in the following manner.
Fill in the Personal Information and Income Details.
Check the Tax Paid and Verification Details.
80G in case you have made donations eligible for Deductions.
Under General Information:
Column A22: Will be on or Before Due Date 139 (1) till 31st July, 2017
Column A23: Will be "No" for most, Unless Governed by Portuguese Civil Code (Applicable for Goa)
Under Income Details:
Income from Salary (Income Chargeable under the head "Salaries" should be considered)
"Income from House Property" (Only 1house) if applicable
Provide the Cumulative Bank interest earned under "Income from Other Sources".
Only Interest earned on Savings Account is eligible for Deduction U/S 80TTA up to maximum limit of Rs 10,000/-). Interest earned on Fixed and Recurring Deposits is taxable.
Deductions Available under Various Sections 80C, 80D etc. (Please refer to the link below for various deductions available)
Tax Deductions Available Under Various Sections For Financial Year 2016-17
New Section 80 EE has been included for 1st time Home Buyers to claim additional deduction of Rs 50,000/-.
Interest earned on Savings Account is eligible for deduction, so provide the amount in the column next to 80TTA.
Under Tax Details: Check the Tax Deducted from Income from Salary and Other Sources as per Form-16 details
Under Tax Paid and Verification: Check the TDS, Total Taxes Paid, Amount required to be paid and the Refund which may be claimed.
Also, One needs to declare the Exempted Incomes earned in this Section itself. (Includes Gifts from Family Members, Gratuity, PF or Insurance/Investment Maturity, etc amount which is exempted as per Income Tax Act)
Provide the Bank Details of all the Bank accounts held by you.
Now Click Save Draft, Review the details and Submit.
On Submission, You will be asked to e-Verify your return by following any of the steps mentioned below:
E-verification through Netbanking, Aadhaar OTP generation, Or
Downloading the ITR-V and sending the same to Income Tax Office in Bangalore to complete the process with 120 days of Filing.
Once done with the verification download the file provided as attachment and you will also receive a mail confirming the same.
Subscribe to WealthTech Speaks Blog for more updates related to Personal Finance, HR and Tech.