Health Insurance: Importance & Need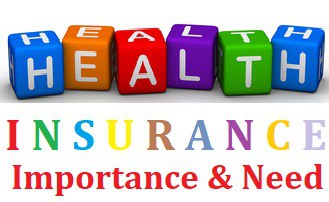 "Health is our greatest Asset", every individual should follow a healthy diet in order to keep oneself fit. As unhealthy lifestyle leads to health ailments which not only restricts normal life but also leads to financial drain. It very important to stay as fit as possible and be disciplined in life. Individuals should also ensure that they have adequate financial cover in case of any eventuality. Thus, Health Insurance is a necessity with the rising treatment costs coupled with inflationary pressure & post treatment expenses. Moreover, Medical expenses is on the higher side in India whereas, Public Expenditure is still on the lower side when compared to other nation.
Union Budget 2018, Centre announced new initiatives under the Ayushman Bharat Program. A new flagship National Health Protection Scheme (NHPS), aimed at providing health insurance cover of Rs 5 lakh (INR 5,00,000) per family covering about 10 crore plus vulnerable families, with approximate 50 crore beneficiaries. The public health expenditure has constantly remained around 1.3% (approx) of the GDP in the last decade. National Health Policy, 2017 proposes to increase the limit to 2.5% by 2025. However, this is still less compared to global average of 6%.
The Scheme could may be launched on 15th August, 2018.
Health Insurance is gaining significance with ever rising Medical Expenses and changes in life style leading to people being more prone to diseases. In the year 2018 it is expected that around 50% of the population in India will be covered by some form of Health Insurance. Government sponsored health insurance schemes is aimed at the poor trying to provide them the much needed coverage. The Central Government runs three prominent schemes, namely, Employees State Insurance Scheme, Central Government Health Scheme and Rashtriya Swasthya Bima Yojana.
Previously, Health Insurance cover of Rs 1 lakh per family was announced under the National Health Protection Scheme (NHPS) for economically weaker section of the society. Additional cover of Rs 30,000/- was also proposed for Senior Citizens. Government had also announced National Dialysis Programme to address the high cost involved in the Renal Dialysis process. Atleast 2,000 new dialysis centers were expected to open up, the facilities are opening up across the country.
Need for Health Insurance
In recent years it is observed that the health aliments have not just escalated but are also more complex in nature. The medical expenses have shot up over the years. In case of any individual being hospitalized, one just cannot estimate the medical bill one will run into. Thus to afford the best medical care and avoid depletion of your finances it is always better to own a Health Insurance.
Health Insurance not only covers the hospitalization expenses but the diagnosis and medication expenses as well. A good Health Insurance plan will help you meet at least 70%-80% of the total expenses incurred on the treatment.
Most of the Health Insurances Companies in India offer 5 lacs to 10 lacs coverage which in my opinion may just not be enough in case of critical illness. However, few companies have come with higher coverage but you also need to pay higher premium amount for the same (Health Cover upto Rs 1Cr). The idea of Health Insurance is to provide an individual with financial assistance so that one could avail the best medical treatment without losing the hard earned savings and investments.
Now let's briefly look at the types Health Insurance cover available to Individuals.
Medical Insurance (Mediclaim):- It is the General form of Medical Insurance (Cashless) which takes care of your medical expenses in case of hospitalization. The Insurance either reimburses the payment made by an individual or directly bears the hospitalization expenses up to the limit of sum insured. These are generally offered by Non Insurance Companies. The Insurance cover has a limit of 5 lacs or 10 lacs depending on the policies offered by the insurers. Mediclaim policies are available for Individuals or as a Group covering the family members. However, few insurance companies are offering higher coverage under the plan.
Accident Insurance:- Personal Accident Insurance provides financial security to the nominee in unfortunate event of demise of the policyholder in an accident. Cases wherein the Insured suffers from permanent disablement, partial disablement, or temporary disablement, the Accident Insurance Plan provides financial assistance in lieu of loss of income opportunity due to any such injury.
Critical Illness Insurance:- These types of health insurance provides cover against major ailments. Insurer receives pre determined lumpsum amount in case he/she is diagnosed with a critical illness covered under the policy, to meet the treatment expenses. These policies cover at least 10-15 such critical illness. Cancer, Stroke and Kidney Failure are few of the illness covered under the scheme. Maximum Coverage in this type of policy is in the range of  20 lacs to 50 lacs but with rise in Medical expenses few of the Private Insurance Companies are offering cover in the range of 1 crore. However these policies attract steeper premium so one needs to compare and avail the best according to his/her needs.
Tax Benefits
Premium paid towards Health Insurance Policies is eligible for deduction U/S 80D. The deduction available is up and above the benefit extended U/S 80C. Tax Deduction up to Rs 25,000/- is available on health insurance premium paid for Self, Spouse and dependent Children. Additional deduction of Rs 25,000/- is available on health insurance premium paid for Parents. In case, Parents are senior citizens (above 60 years of age) the maximum deduction allowed goes up to Rs 50,000/-. If senior citizens above the age of 60, who are not eligible to avail Health Insurance, deduction up to Rs 50,000/- is allowed on medical expenditure.