Employees Provident Fund (EPF) Online Claim Transfer
Employees Provident Fund (EPF) has made it possible for the Subscribers to transfer claim online through their previous or present employer. Subscribers switching jobs may now submit the transfer claim online, the same will be processed within few days. The option to apply for transfer of claim is available on the EPFO portal.
In order to apply for  transfer claim online, Subscribers need to activate their UAN. Following which the application for the Transfer Claim may be made.
Applying for Transfer of Claims Online
Log onto EPFO portal and Click on the Link for Online Claim Transfer Portal. (www.epfindia.gov.in)
Check Eligibility for Online Transfer of Claim through the option made available to the Subscribers- This can be done by providing the PF Account details of past and present employers.
Following which, the eligible members are required to register themselves online, while the already registered members may log in with their credentials.
After logging in on to the Subscriber's interface, individual may apply for the transfer through Claim Transfer option.
Subscriber has to click on "Request for Transfer of Account" wherein the details of Part A, B and C needs to be filled.
After the mandatory details are filled up, Subscriber needs to preview the application and make changes which they feel is required.
Once the preview is done, the Subscriber may proceed to submit the application.
On submission of the application, the System will generate Form 13, the member has to take a print of the Form 13, duly sign it and submit it to the either of the Employer (Past or Present). Within weeks transfer request will be processed.
Subscribers are also advised to go through the FAQ and Process Flowchart before applying for the transfer.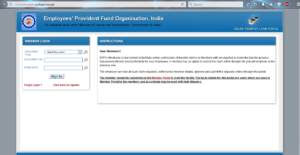 Following steps needs to be followed for Online Submission of Transfer Claim:
Step 1: Register yourself in EPFO Portal.
Register the account on the portal. Subscribers who have already registered need to click on "forgot password" option to find out their log in credentials.
The portal linked is shared below:
http://memberclaims.epfoservices.in/employee_portal/employee_reg_form.php
Step 2: Check Eligibility for filing Online Transfer Claim:
The EPFO portal URL is shared below:
http://memberclaims.epfoservices.in/check_eligibility.php
Step 3: If Eligible for filing Online Transfer Claim.
Fill up the Transfer Claim Form Part A,B and C.
The website address is  :  http://memberclaims.epfoservices.in/index.php
Preview the application and submit.
Step 4: After submitting in Online the printable Transfer Claim Form (Form-13) will be generated. The member has to take a printout of the printable PDF file of Form 13, sign it and submit it to the respective Employer.
The status of the Transfer Claim will be notified to the Subscriber on the registered mobile number.