Atal Pension Yojana (APY): Online Account Statement For The Subscribers
Subscribers to the Atal Pension Yojana (APY) may now download the statement of their contribution to the scheme online by providing the relevant account related information. APY does provide hard copies of the statement but many of the subscribers are not in receipt of the same. However, for Income Tax declaration and various other purpose the statement is often required.
Contribution to Atal Pension Yojana (APY) is eligible for Tax Deduction U/S 80 CCD (1b) thereby making it a decent retirement plan for the individuals. Individuals aged between 18-40 years are eligible to subscribe to the scheme. The minimum monthly contribution which may be made to the scheme is Rs 42/- while maximum monthly contribution is capped at Rs 1,454/- depending on the pension plan and the age of the Subscriber. The scheme provides minimum pension of Rs 1,000/- with the maximum pension amount is capped at Rs 5,000/-.
The details about the Scheme has been discussed in the link shared below:
http://wealthtechspeaks.in/atal-pension-yojana-retirement-plan.html
Online Statement of contribution to the APY will help individuals regularly track their investment. The process to download the statement is very simple and easy. In this article I will discuss the process to download and view the e-statement.
Individuals will be able to view the following details on the portal:
Account Holder Details
Atal Pension Yojana (APY) Details
Pension and Contribution Details
PRAN Information
Linked Bank Account Information
Process to Download the view the E-Statement and E-PRAN:
Step1:
Subscriber to log onto the NSDL portal
https://www.npscra.nsdl.co.in/scheme-details.php
Step2:
Click on the link to the APY E-PRAN/Transaction Statement View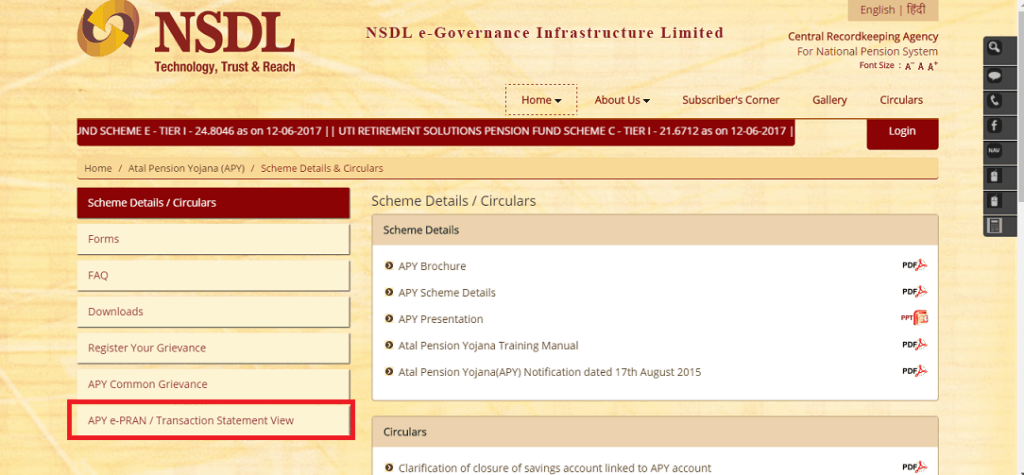 Step3:
Select for the available options:
Click to Search with PRAN (Using PRAN Number available in the Registered Bank Statement)
Click to Search without PRAN (Using Subscriber Name, Registered Bank Details and Date of Birth)
From "Views for Subscriber" chose the following:
e-Pran View, Or
Statement of Transaction (SOT) View
Followed By the Respective Financial Year
Provide the Captcha and Submit.
Now the Subscribers may view statement for relevant Financial Year.