Savings, Investments And Insurance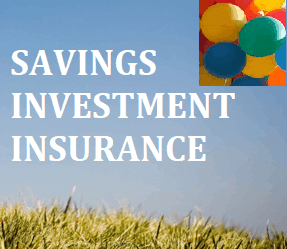 Savings, Investments and Insurance are the terms we often come across and many of us treat is as same. But in reality this is not true. Many of us may feel that the term may look identical but when you look at it carefully you will realize there lies a point of difference. However though, they might mean different in the practical world but their interrelation cannot be ignored. Savings, Investments and Insurance are not only interrelated but they are also interdependent on each other.
Savings generally means to save a portion of your earnings to meet your future shortcomings or obligations that may arise. It is generally for meeting short term needs and for specific purpose. Savings do not vouch for any systematic setup to do so. You can save your hard earned money in the Safe Lockers at your home or at the bank. Even in banks or Short Term Deposits attract very modest return. 
Savings can be best described as:-
·

        
Purpose of Savings is not to generate return from the same.
·

        
Savings helps to meet short term obligations.
·

        
Savings is accumulation of wealth rather than generation of funds.
·

        
It provides liquid cash to meet the needs and is easily available.
·

        
Since return potential is bleak the risk involved in Savings is also very minimum.
On the other hand, when the Savings are used for the purpose of earning returns and maximization of wealth it is termed as Investment. Hence Savings can be termed as primary practice while Investment is secondary and interdependent on each other while Insurance acts as a facilitator in mobilizing the funds which could be used to overcome unprecedented events in future. Investments are for long term objectives and it is basically undertaken to maximize the wealth over a period of time. Investment is often made in purview with the changes in the economy and government policies, taxation benefits and combat cost escalation. There are various Financial Products, Bullion Items and Real Estate where such Investments can be made with objective of earning high return. 
Investment can be best described as :-
·

        
Investment is secondary to Savings and is undertaken to generate returns.
·

        
It basically looks after the long term objectives and purpose.
·

        
It involves greater risk than Savings and also the return is higher on investments made.
·

        
Investment can be undertaken in a specific area or diversified area depending on the ability to invest and manage risk.
·

        
Investment does not ensure liquidity of funds and it cannot be withdrawn at will in many cases.
Whereas when it comes to Insurance it is somewhere a hybrid of Saving and Investment. Insurance is transfer of risk to another party who will compensate in case of any events leading to loss of life or property and a premium is charged for the same by the latter. It is the coverage to meet the future obligations and protects the Premium payer from financial risks arising out of unfortunate turn of events. Although many Policies have been put in place by the Insurance Companies offering Insurance as well as Return on the Investment made in form of premium. These kind policies are conservative and offer low rate of return as they provide Insurance Coverage as well.
However these investments are less risky and more secure in nature though the premium paid will be a lot higher. They also provide Tax benefits to the individual making it more attractive for the Policy holders. Since the return is quite low and tenure is generally long these Insurances are not recommended for investment purpose. Recently, there has been a surge in Term Policies which offer the insurance coverage but without any return or maturity value. These policies are cheaper and more viable for the Security and Risk Coverage. Insurance is basically an area of Investment in which money can be invested for the purpose of providing Financial protection to the dependents and in some cases availing the secured returns on the completion of policy tenure.
Insurance can be best described as :-
·

        
Transfer of potential Future Risks.
·

        
Return of Investment is Low or Nil depending on the policy terms.
·

        
It is a form of investing which aims at providing Security Cover rather than Returns.
·

        
Diversified Insurance policies give wide range of coverage options to the Individuals.
·

        
Provides Tax Relief to the Investors.